Sesame-Ginger Vinaigrette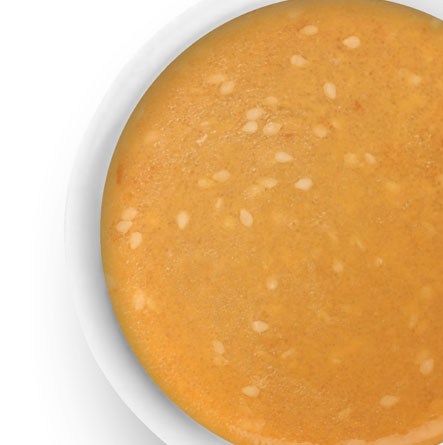 %

Ingredients
9.7%

Sesame Seeds, White (Toasted)

26.3%

Peanut Oil

23.4%

Ginger Paste

18.2%

Orange Juice, Single Strength

9.1%

Lemon Juice, Single Strength

10.55%

Sugar

0.1%

Citric Acid

0.35%

Oyster Extract Powder - 1805

1%

Light Colored Soy Sauce Powder - 5317

1.3%

Rice Vinegar Flavored Powder - 5401
Lightly toast sesame seeds in a skillet over medium heat.
Mix together orange and lemon juices.
Mix together dry ingredients (sugar, citric acid, 5317 Light Colored Soy Sauce Powder, 5401 Rice Vinegar Powder and 1805 Oyster Extract Powder).
Slowly add dry ingredients to juice mixture while whisking or mixing with an immersion blender.
Mix in ginger paste until completely dispersed.
Slowly while mixing with an immersion blender, pour in peanut oil and mix until completely blended.
Stir in toasted sesame seeds until evenly dispersed.