Carrot Coconut Soup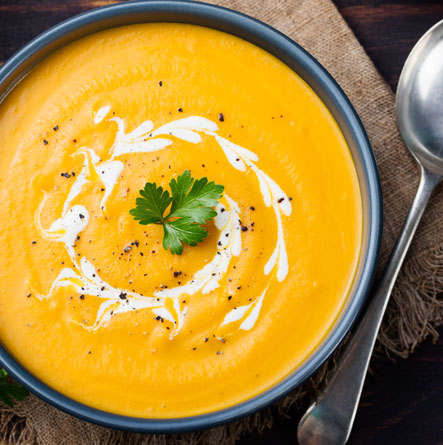 %

Ingredients
48.61%

Vegetable Stock, unsalted

24.20%

Carrots, chopped

23.70%

Coconut Milk

1.00%

Ginger Paste

1.00%

Natural Flavor Enhancer Powder 7103

0.70%

Komi Powder

0.24%

Salt

0.35%

Onion Powder

0.20%

Curry Powder
Add vegetable stock to pot and begin heating on medium-high heat.
Whisk 7103 Natural Flavor Enhancer Powder, 7400 Komi™ Powder, salt, onion powder and curry powder into vegetable stock until dry ingredients are completely dispersed and no lumps remain.
Add carrots and ginger paste and continue heating until mixture comes to a boil.
Reduce heat to low, cover and simmer until carrots are soft (approximately 20 minutes).
Once carrots are soft enough, allow mixture to cool slightly and then puree with an immersion blender until mixture is smooth.
Add coconut milk and mix well.
Reheat, if needed.