If you were in Las Vegas for Supply Side West '16, you are probably still full—just like we are. Between bites of our back-to-reality kale salad, our mouths are still watering and our taste buds have been elevated no doubt. We thought it only fair to share the tastes that we simply can't get over and the experiences we expect to become trends.
The Restaurants
The Bellagio Hotel:

Todd English's Olives
Harvest by Roy Ellamar
Lago by Julian Serrano

Herringbone / Aria Hotel
Giada / The Cromwell
Chris Santos Beauty and Essex / Cosmopolitan
The Experience
Poke: Any restaurant that has a poke of the day is alright with us, and poke has hit the strip with a vengeance. We sampled it at;
Harvest: Hawaiian Poke of the day, we could see craving it every day, served with bourbon soy, furikake, and bamboo rice.
Beauty and Essex Tuna Poke Wonton Tacos 17 with micro cilantro, radish, and wasabi kewpie
The Tuna poke at Herringbone knocked our socks off which was fitting since the luxe outdoor patio and beautiful weather demanded sandals.
Cart it Up: We loved, loved, loved the unique snack and sweets cart service at Harvest. Part-state fair, part-dim sum, the experience was pure "gotta have it." And trust us, we did. Here's what rolled on by:
Snack Cart – super fun and interactive

Hawaiian Poke of the Day

Bourbon soy, furikake, bamboo rice

Smoked Trout Dip

Black sesame crackers, tobiko caviar, farm egg

Sweet Cart

Fresh Berry Tart
Vanilla Crème Brûlée
Handcrafted chocolate covered peanuts / white chocolate covered popcorn, white chocolate covered blueberries
Homemade passionfruit marshmallows
Hazelnut torte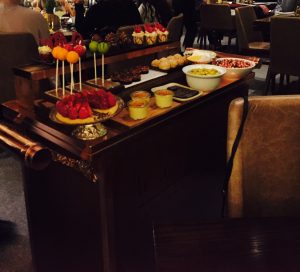 Indulgent Comfort: When the slots weren't kind or our feet sobbed from the show floor, there was no shortage of comfort food in Vegas. Vegas comfort is beyond mac n'cheese and burgers; it's almost as good as phoning home.
And special applause to Giada and her amazing bread service. Butter, capers, red pepper flakes and salt. While we couldn't take it to the bank, this dough garnered much interest.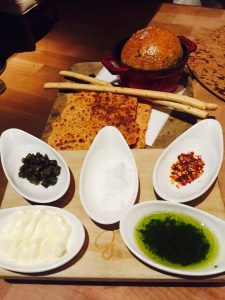 Other comforting delights included:
Beauty and Essex

Grilled Cheese with Smoked Bacon and Tomato Soup Dumplings

Olives

Cast Iron Corvina comprised of Ginger soy marinade,  shishito whipped potatoes, roasted cauliflower,  fried shrimp insalata

Giada

Bacon wrapped dates filled spicy Italian sausage topped with gorgonzola crema
Lemon crab arancini with a Calabrian chili Pomodoro and basil aioli
Rich Veggies: While Vegas certainly has its share of salads and vegetables, it was the naughtier ones that caught our eyes. And as vegetables continue to capture the middle of the plate, they should feel pretty good about how they're treated in Sin City. Here's one more reason to visit Giada.
Fried Brussel Sprouts with pancetta gastrique, pomegranate and parmesan / Giada
Tomato Tartare sunny side up quail egg, parmesan crostini / Beauty & Essex
Savory Chocolate: Chocolate has played a savory role in cuisines, like Mexican, for centuries. In Vegas, chocolate is showing up in surprising ways with unique partners like mushrooms and cauliflower. Now that's one way to get kids to eat their veggies.
White chocolate, white cauliflower, and pickled cauliflower soup/ Giada
Red Wine Risotto with Chanterelle mushrooms & dark chocolate / Giada
A Healthy Break: All this luscious food needs something to cut the richness. Bellagio's Lago provided a perfect view of the Eiffel Tower nearby along with Bellagio's captivating fountains and salads with fresh, bright flavors.
Farro grain with roasted vegetables and arugula
Heirloom tomatoes and buffalo mozzarella
Sweet Stuff: We couldn't let you think that the only dessert we had all week was at Harvest. Beauty and Essex enamored us with their KYGO Cloud Nine "S'mores" with a dark chocolate torte, pecan graham crumble, marshmallow clouds, white & milk chocolate sauces.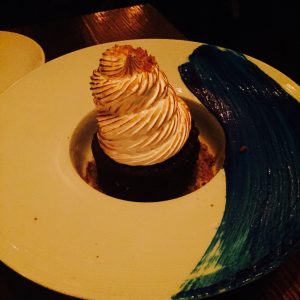 Vibe: The settings for all these amazing flavors were definitely bigger than life. Some spots were flashy with impeccable service (Giada); some had an electric buzz (Beauty and Essex) while others paid homage to the design trend of open, glass kitchens (Harvest). We loved every bite, every taste and hope that what happened in Vegas, doesn't stay in Vegas.