Black Bean Burger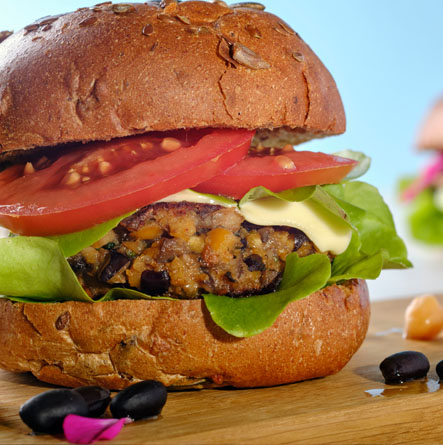 %

Ingredients
Base

36.28%

Black Beans, NSA, Drained + Rinsed

34.99%

Pinto Beans, NSA, Drained + Rinsed

0.64%

Salt, Fine

0.02%

Cumin Seed, Ground

0.39%

Black Pepper, 30#

0.60%

Onion, Granulated

0.19%

Garlic, Granulated

0.11%

Paprika, Smoked, Ground

0.07%

Jalapeno, Ground

0.50%

Fermented Black Bean Powder, 7036

1.63%

White Vinegar

16.17%

Diced Tomato, Drained + Rinsed

1.47%

Tapioca Flour

0.22%

Potato Starch

6.71%

Distilled Water
Description/Descriptors:
Savory, satiating black bean veggie burger
Directions:
1. Weigh out all ingredients
2. Mix white vinegar with tomatoes, let marinate for 3 minutes
3. Make a slurry with the tapioca flour, potato starch, and distilled water
4. Set slurry aside, mash all other ingredients together mixing thoroughly
5. Stir in slurry, mix thoroughly
6. Portion into 118 g. patties
7. Freeze
8. When ready to prepare, griddle patties while frozen to help retain shape
Why these Nikken items were used:
7036 has a wonderful roasted, nutty, savory flavor that complements this veggie burger in a way
that synergizes all other flavors together making it meatier and harmonized
Recipe Origin and Purpose:
7036's inherent tastes inspired this Black Bean Burger
Recipe Intro:
A great veggie burger is a wonderful way to enjoy fitting more vegetables into your diet. However,
they often lack the umami needed to satiate those burger like cravings. Well, not ours! Our 7036
Fermented Black Bean Powder is a wonderful source of natural umami that lends deep, savory,
meaty flavor to this patty.