Mushroom Steak Gravy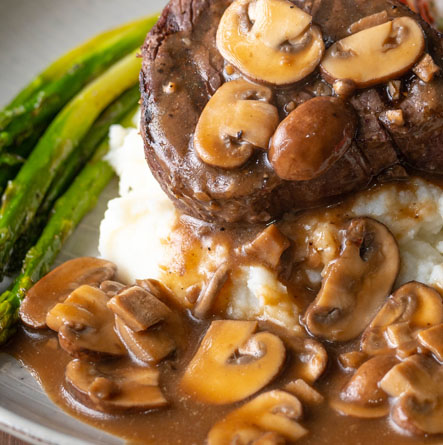 %

Ingredients
Base

37.37%

Chicken Stock, Unsalted

33.22%

Whole Milk

18.68%

Yellow Onions, Sliced

6.19%

Butter, Unsalted

2.08%

All Purpose Flour

0.83%

2106 Shiitake Mushroom Powder

0.68%

Dijon Mustard

0.50%

Salt

0.12%

Garlic, Peeled and Crushed

0.12%

2365 Mirepoix Powder

0.09%

Worcestershire Sauce

0.07%

5365 Wheat-Free Soy Sauce Powder

0.05%

2230 Roasted Onion Extract Powder

0.01%

Fennel Seed, Whole

0.01%

Thyme, Whole

0.00%

Bay Leaf, Whole

0.002%

Savory, Ground
Recipe Intro:
The depth of savoriness that develops from our 2106 Shiitake Powder, butter and milk produce an umami synergistic dream. These ingredients simmering together makes this gravy a hallmark of classic American comfort food. 
Recipe Motivation:
This recipe is homage to classic American cuisine.
Why this Nikken item was used:
The 2106 Shiitake Powder was added for its wonderful inherent shiitake taste to bring authenticity and identity to this gravy.
Directions:
1. Melt butter over medium high heat. Whisk in flour
2. Cook flour until it smells lightly nutty
3. Whisk in half the chicken stock until smooth
4. Whisk in 2106 Shiitake Powder and all other dried ingredients until smooth
5. Whisk in remaining chicken stock and bring to boil
6. Whisk in heavy cream and bring to a boil
7. Lower heat and stir in Worcestershire sauce
8. Simmer for 10 minutes until thick. Serve hot!