Shrimp Enchilada Sauce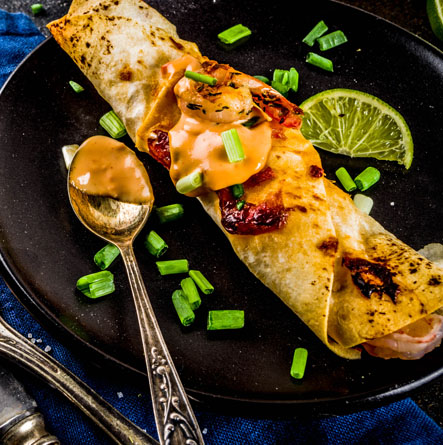 %

Ingredients
29.56%

Monterey Jack Cheese, Shredded

26.57%

Heavy Cream

9.63%

Onions, Chopped Fine

7.84%

Green Chili's, Chopped

7.51%

Butter

6.98%

Green Bell Pepper, Diced Fine

5.78%

Sour Cream

2.26%

Favorite Seafood Seasoning

1.46%

2135K Champignon Mushroom Extract Powder

1.86%

Safflower Oil

0.55%

Garlic, Minced
Recipe Intro:
Rich, savory, mouthwatering shrimp enchiladas prepared with sauce using our 2135K Champignon Mushroom Extract Powder is so delicious and craveable they'll disappear quicker than you can plate them.
Recipe Motivation:
This recipe was inspired by modern, coastal Cajun cuisine.
Why this Nikken item was used:
The 2135K Champignon Mushroom Extract Powder was used to enhance the richness and savory mouthwatering deliciousness of the shrimp enchilada sauce.
Directions:
*Pre-heat oven to 350F
1. Melt butter over medium in sauteuse pan. Toast spices.
2. Add onions, green chili's, and bell peppers, sweat until soft.
3. Turn heat to low. Add the 2135K Champignon Mushroom Extract Powder and garlic, cook until garlic smells sweet.
4. Add heavy cream and bring to a boil. Lower heat and reduce by half, stirring often.
5. Stir in sour cream and 2/3 of the cheese. Remove from heat.
6. In clean sauté pan, heat safflower oil on high until oil begins to ripple.
7. Add shrimp and sauté until nearly cooked through.
8. Add enchilda sauce to shrimp and finish cooking shrimp.
9. Allow sauce to cool then spoon into 8″ tortilla, roll and place seem side down in a greased baking pan.
10. Top the enchiladas with remaining sauce and remaining cheese.
11. Bake for 12 minutes or until cheese is melted. Remove from oven and garnish with green onions if desired. Serve immediately.